It's pretty much a given that websites need to be mobile-friendly. Should your site adopt a mobile-first design as well? For many, the answer is a firm Yes for a lot of good reasons.
All Sites Should Be Mobile-Friendly
It makes sense to invest in a solid mobile experience for customers. I can't stress this enough: if your website – and especially your e-commerce website – isn't easy to navigate or read on a smartphone, you're turning off potential customers.
Mobile-First sites are specifically designed for mobile users.
Mobile-first design responds to customers who go online through a smartphone. Sites that sell consumer goods are best suited for this. Clothing, jewelry, consumables, furniture, and home accessories sell well with lots of images and videos.
They also don't need a ton of written content because search engines recognize when a search comes from a desktop or mobile device and deliver results accordingly
Mobile-First Works for Desktop, Too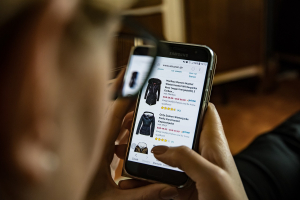 Google ranks mobile search separately from desktop search to accommodate all mobile users. So how can a business satisfy desktop and mobile users?
Mobile-first functions pretty well on websites regardless of the device they're viewed from. E-commerce software like WooCommerce and Shopify understand this and have simplified adding images, video, carousels, etc., to sites, with layouts that encourage brief product descriptions. Programmers (and writers!) can add + and – signs to expand or compress descriptions.
The decision comes down to understanding what devices your audience uses when they are on your site. Check your analytics for this.
What if the breakdown is more or less even for mobile and desktop visits?
Go for the mobile-first design.
You can always add content-heavier pages for a blog, customer testimonials, and the About page, which is still important for a lot of consumers – many like to know details like where you source materials or the company's civic or public services.
According to TechJury, a company that tests and reviews software and devices, 86% of shoppers use at least two channels (presumably a desktop/laptop and smartphone) when they shop.
I read newspapers on my smartphone so often now that when I open one up on my laptop, I'm almost overwhelmed by how big everything seems. That's because they're using a mobile-first approach. The papers I read tend to be pretty high on detail, which is why they still rank well on news searches.
Keep in mind that few people actually buy during their first visit to a site. They may come back a few times to read more or watch a product video to get more information. And, of course, many return to see if prices have changed.
B2B Customers Use Their Own Smartphones at Work
People use their smartphones all the time, especially for searches and even when they're at work.
TechJury says fully half of all B2B queries last year were from a mobile device, and 55% of all page views were from mobile.
Why would workers search by phone even if they have access to a nice desktop or laptop?
Speaking for myself, it's just easier to whip out the phone for a quick search. Right now, I have about 10 tabs open, all of which have really important information I have to see. Why open another tab if I just need to do a one-off search and the phone is right here?
Remember BYOD? Businesses stopped resisting it when they realized that allowing employees to use their own phones at work saved them money. In 2019, SpokePhone, a company that customizes communications for smartphones, asked why anyone would agree to use their personal phone at work.
They concluded people instinctively prefer using their own phones, even at work, even if it means handing out their personal mobile numbers to customers. Moreover, company phones are just that – purchased by the company – and not personalized like one's own phone.
The Mobile Bounce Rate is Near Zero!
Getting back to TechJury's intriguing compilation of mobile-vs-desktop statistics, I was interested to read those mobile-friendly websites recorded a bounce rate of 0.2% by the end of 2020. Just three years earlier, the mobile bounce was 3% higher.
More than 60% of all internet search comes from mobile.
Overall, more than half of all internet searches have been conducted on mobile since 2017. Last year, they amount to 61%! That's even with slower speeds than on a desktop, which could be one reason why more time is spent on a desktop – probably to complete actual work or school assignments.
Still, mobile is nearly equal to desktop in terms of all internet traffic.
In addition, for many people, their smartphone is their primary, if not only, access to the internet. The gig economy isn't desktop/laptop friendly all around, especially for workers whose job is driving people or delivering goods.
Still not sure about your website? Read the full TechJury article. The compilation writer from Christo Petrov draws on respected sources, including Statista, eMarketer, and SEMRush. It's a compelling argument for anyone who's selling a product online.
https://timestormcomm.com/wp-content/uploads/2022/11/mobile-phone-2643081_1280.jpg
402
1280
Ruth Ann Monti
/wp-content/uploads/2022/11/timestorm-communications-logo.png
Ruth Ann Monti
2022-05-31 19:30:05
2023-03-31 13:52:04
Should All Sites Be Mobile-First?